Madison Apartments
The developer selected the original Nantucket site because it's location was not only convenient to grocery and retail stores, but several blocks away from any busy area. Our Stratton Way location is in a quiet neighborhood located of HWY PD (McKee Road).
The neighborhood is made up of only newer condominiums and newer single-family homes. There are no other apartments within the immediate residential neighborhood.
Construction of Nantucket was phased in starting in the year 2000 and the last building was completed in 2005. The architect and developer wanted a New England theme and this is evident with your first viewing. Compare Nantucket's square footage to all other premier apartments in Madison and you will find with our reasonable rents, you are getting an excellent value.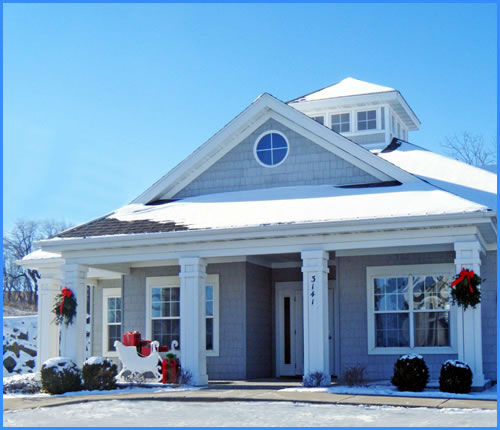 Various Apartment design features and amenities include:
➦ Heated Parking: Each apartment includes one heated, underground parking stall with garage opener, for free. This is especially appreciated during the cold winter months as you can always park your vehicle in a garage heated to over 50 degrees. An additional stall is available in our surface parking lot.
➦ Nantucket Clubhouse: Our Clubhouse provides residents a community room, leasing office (staffed seven days a week), and heated outdoor pool. You can reserve the community room for free. It has a full kitchen, sofa and chairs, dining table for six, gas fireplace, and a 55" plasma TV with cable. It provides a comfortable extra location for residents to watch sporting events, have friends over to grill out, or enjoy the pool and pool deck furniture on a hot summer day.
➦ Exercise Room: Professional grade equipment provides a full cardio workout. Included are: free weights, floor mat, exercise ball and a wall mounted 42" flat screen TV to keep you company. It is open 24 hours a day, seven days a week and is free with your Nantucket apartment.
We will be proud to show you Nantucket at your earliest convenience. You are welcome to just drop in at 3141 Stratton Way (see our office hours), however we appreciate a call for an appointment at (608) 848-3070. We look forward to hearing from you soon!